New Award Celebrates Critic W Gordon Smith
The three Scottish art exhibiting societies – RSW, Society of Scottish Artists and Visual Arts Scotland – have each been given £4,000 award money for a new W Gordon Smith and Mrs Jay Gordonsmith Award.
W. Gordon Smith was Scotland on Sunday's art and theatre critic and columnist for many years during which he contributed to the progress of the arts in Scotland and these new awards both celebrate his life and continue his lifetime's work by supporting artists in Scotland.  Each society will present the new award every year for the next 10 years.
Judged by Sandy Moffat, artist and former head of painting and printmaking at Glasgow School of Art and Tom Wilson, artist and former Director of Open Eye Gallery, the first RSW award winners were David Forster RSW for Here too She Found Shelter from the Storm (Fabriano Italy) (£2,000) and Catharine Davison RSW for Oxgangs Winter Garden (£2,000) which was  inspired by the view from her bedroom window looking out onto her vegetable garden and the similarity between evening light and the way a veil of snow edits the landscape (painting pictured below along with David, Catharine and  RSW President Jim Dunbar).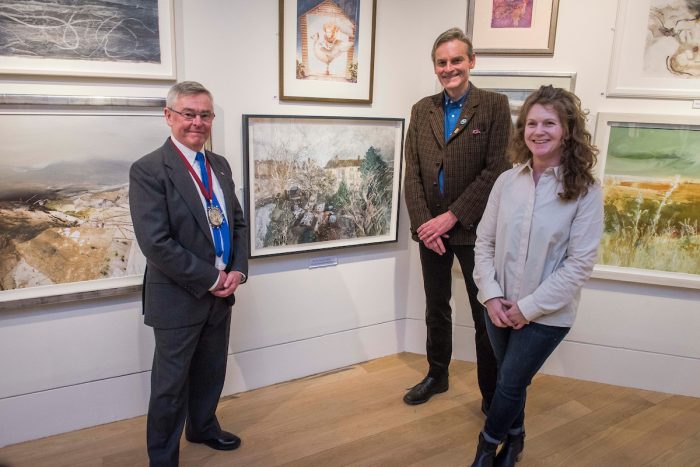 President of RSW, Jim Dunbar PRSW RWS RGI, said "The RSW is extremely grateful for this outstanding and generous Award from Mrs Jay Gordonsmith and the Trustees. We are delighted that both Sandy Moffat and Tom Wilson are the judges and share their enthusiasm for rewarding works demonstrating the unique quality of watercolour as a medium."