Talented Young Artists Win Watercolour Awards
2018 is the Year of Young People in Scotland and it was exciting to see five talented young watercolour artists winning awards at the 137th Open Annual Exhibition.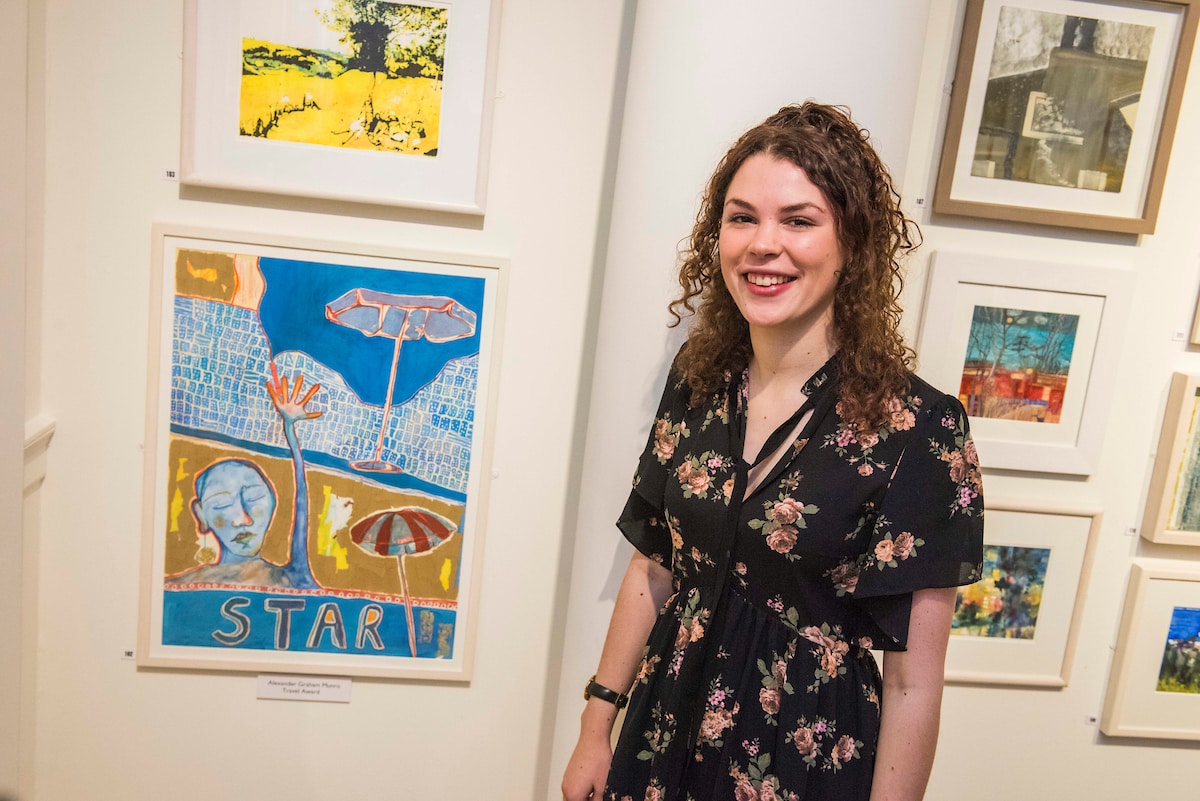 Twenty two year old artist Alice Campbell (above) won the £3,000 Alexander Graham Munro Travel for the best painting submitted by an artist under 30 years old.  Now based in Edinburgh, she graduated from Duncan of Jordanstone College of Art and Design University of Dundee in 2017 and previously won the RSW Watermark Award.
The award winning painting 'Le Fumeur' was inspired by finding an old cigarette packet under the floorboards in her parents' house and the idea of seeing a small part of the life of someone else who had lived in the same house.
She said about winning the award "I was completely shocked to receive this Award – but absolutely delighted. I would love to take the opportunity to travel to the Far East to get some inspiration. I've travelled to that part of the world before – in 2016 I went to Vietnam, Cambodia and Laos – and the effect on my work was tremendous so I'd love to go back Receiving this award is such an exciting opportunity for me as a young and emerging artist and it will make a huge impact on my practice."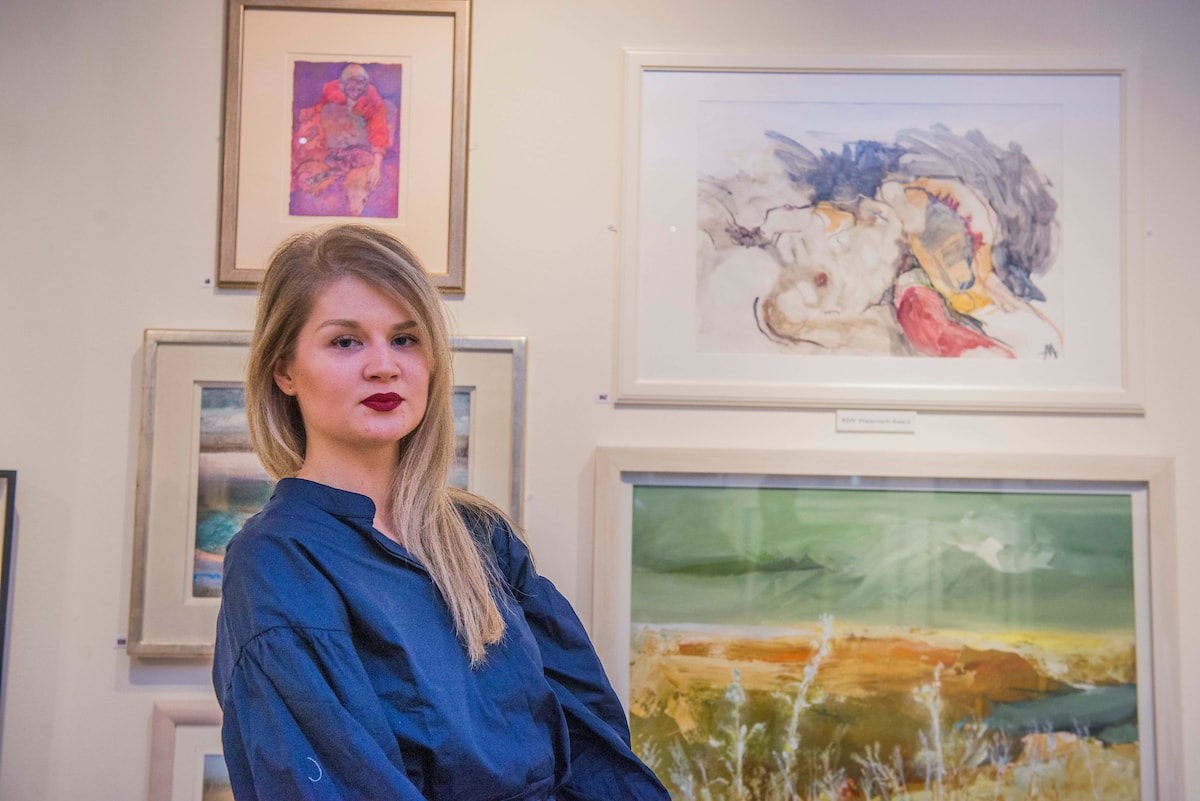 Latvian born Anna Mickevica (above), who also graduated from Duncan of Jordanstone College of Art and Design, University of Dundee in 2017, won the £50 RSW Watermark Award.  She is continuing her studies at Edinburgh College of Art and the winning painting 'Nude 7' was an experimental work made especially for the RSW exhibition. The aim was to create an expressive work while still capturing the elements of a figure using watercolours on paper and this experiment led to her developing a new uncontrived way of expression.
Amelia Busk won the new £300 Scottish Artists' Benevolent Association Award.  She graduated from Edinburgh College of Art, University of Edinburgh in 2017, and her painting 'Anthea' is part of a personal project motivated by the history behind a chinoiserie wallpaper that her grandfather smuggled to England.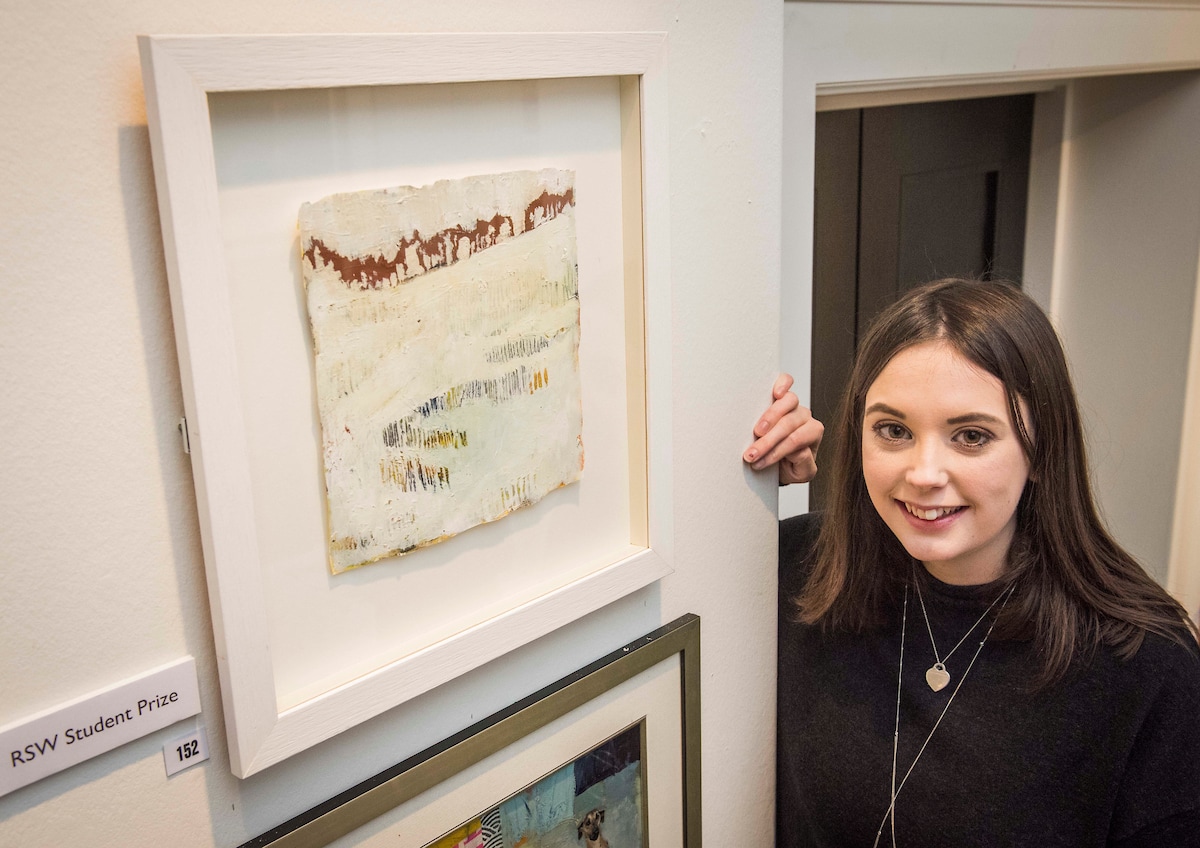 Alison Gray, who graduated from Gray's School of Art, Robert Gordon University in 2017, won the £300 RSW Student Prize. The winning painting 'Lost Land' was inspired by her appreciation of the unspoilt beauty of the Caithness landscape. Now based in Glasgow, she said "The barren land holds many secrets to our past with archeological finds and peat bogs that perfectly preserve any objects consumed. The painting has been built up through thin layers of paint and scratched away in parts, mimicking the action of the crofters digging for peat, reclaiming the past, and highlights the special relationship man has with land. "
Hannah Mooney (below), who graduated in 2017 from Glasgow School of Art, won the House for an Art Lover Award for 'Looking Towards the Ferry Home, Evening' which is based on a plein-air sketch completed beside the Lough Swilly in Co. Donegal, Ireland.