137th RSW Open Annual Exhibition Celebrating Scottish Watercolours
The 137th RSW Open Annual Exhibition opens 5 February at the prestigious Royal Scottish Academy in Edinburgh presenting over 180 new works by established and emerging Scottish watercolour artists.  It was open to all artists in Scotland and runs until 8 March 2018.
A new work by Janet Melrose RSW features on our catalogue, poster and newsletter,  Over the past two years she has been visiting archaeological sites around Scotland, interested in the way we connect with an area of landscape and use it as a meeting point or as a burial site. The lichen growing along a branch is more likely to be the catalyst for a painting rather than a "view". Her new painting, Enclosure, came about from making a connection between marks on the surface of a rock and the bigger landscape.  She uses lines and arrows to describe and record wind direction, sunlight or the flight of birds.
We are also delighted to be holding several free demonstrations and events when a selection of RSW Members will be in the Galleries working on paintings to demonstrate their work and will be ready to answer questions on materials, techniques and methods.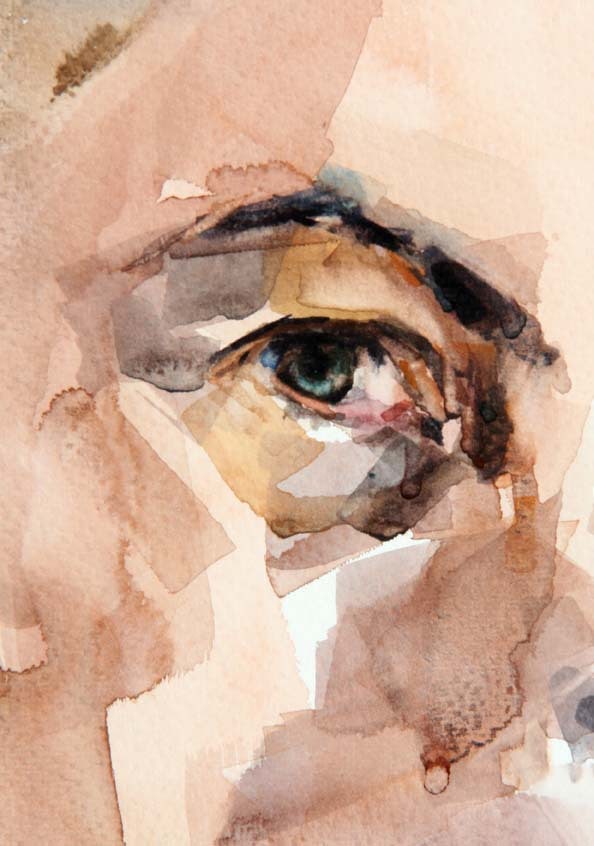 Sat 10 February 2018: 11am – 1pm
Portrait artist Aine Devine RSW will demonstrate her technique by focusing on how she paints an eye.
Sat 24 February 2018: 2 – 4pm
Artists Angus McEwan RSW RWS RGI and Jean Martin RSW will be demonstrating how they work with sketchbooks and materials to develop ideas.
Cancelled due to bad weather Thurs 1 March 2018: 5.15pm – 6.30pm – Words on Watercolour
Writers from the group Words on Canvas will read poetry and prose inspired by different paintings in the exhibition.   When possible the artist is also there to talk briefly about their inspiration before hearing the stories the work ignited in the mind of the writers.  It is a fascinating way to tour the exhibition.
The exhibition in the Lower Galleries, Royal Scottish Academy, The Mound, Edinburgh is open Mon to Fri 10am to 5pm and Sunday 12 to 5pm, and admission is free.