Award Winning Artists at 136th Annual Exhibition
Eighteen awards were presented at the RSW 136th Annual Exhibition opening and here is our first selection of winners.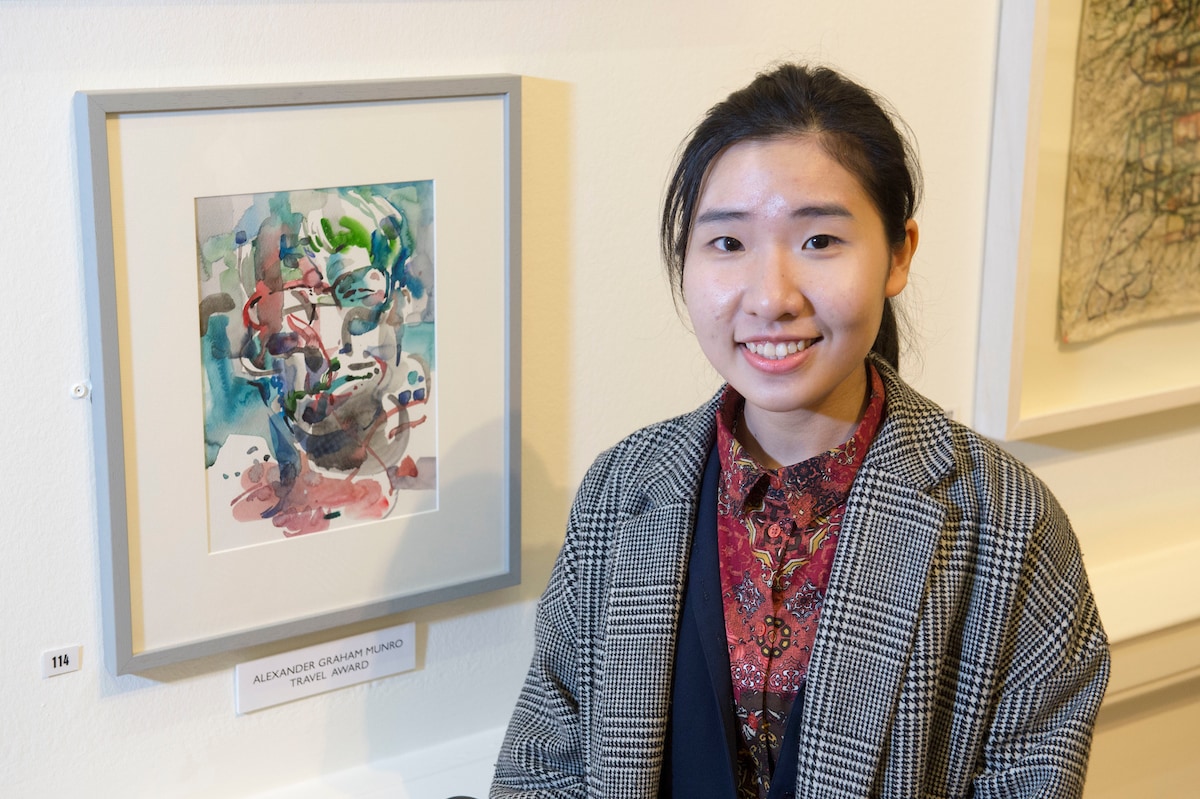 Wei Shu Xin, 22, won the £3000 Alexander Graham Munro Travel Award for the best painting submitted by an artist under 30 years old.  She was born in Hong Kong and is currently a postgraduate student at Glasgow School of Art.  She said "I am really happy that my work has being selected. Since I have a very strong interest in my motherland culture, I would like to investigate the differences in the western and eastern culture, as a way for better interpretation of my experience of the Chinese ideology."  Her painting 'Facing the City – Dream' is a series of paintings based on a scene where her friend Alex closed his eyes and fell slightly asleep while sitting on a bench in a park next to a very busy street which inspired her to create the journey between the city, forest, reality and dream.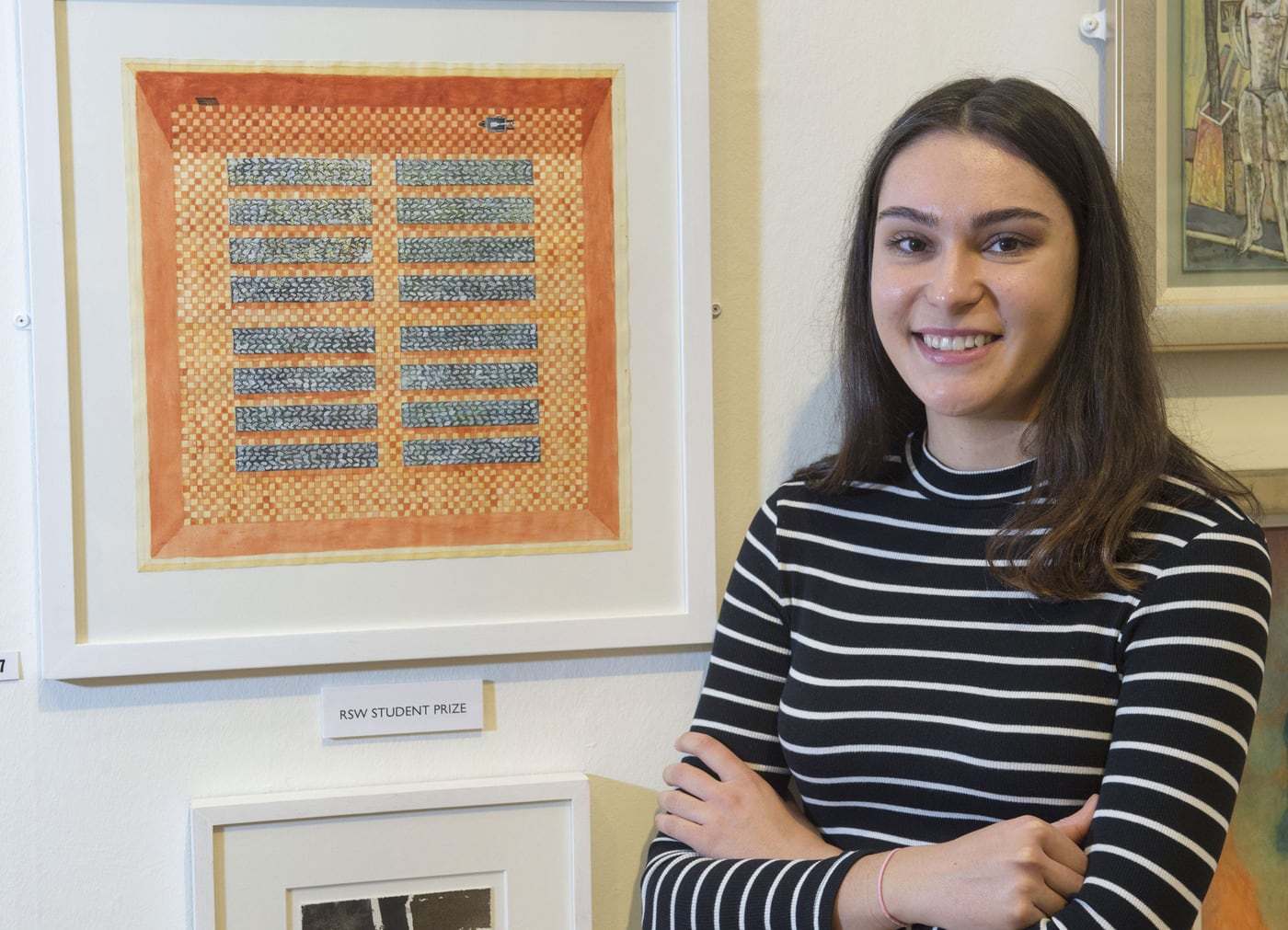 The £300 RSW Student Prize, selected from work by graduates during the Degree Shows in 2016 was won by Gray's School of Art graduate Katie Watson, currently on a year residency at Leith School of Art.  Discussing her painting 'Walled garden with wheelbarrow' she said "I am fascinated by the abstract patterns and structures human beings impose on nature in order to control it and had been looking at some really old diagrams of early botanical and Baroque-style gardens.  This painting is loosely based on the early botanic garden of Leiden in the Netherlands. This type of garden was symbolically divided into quarters; each quarter represented a 'corner' or a continent of the Earth, and was filled with plants collected from these places.  These gardens are the result of human beings travelling far and becoming 'masters' of the Earth."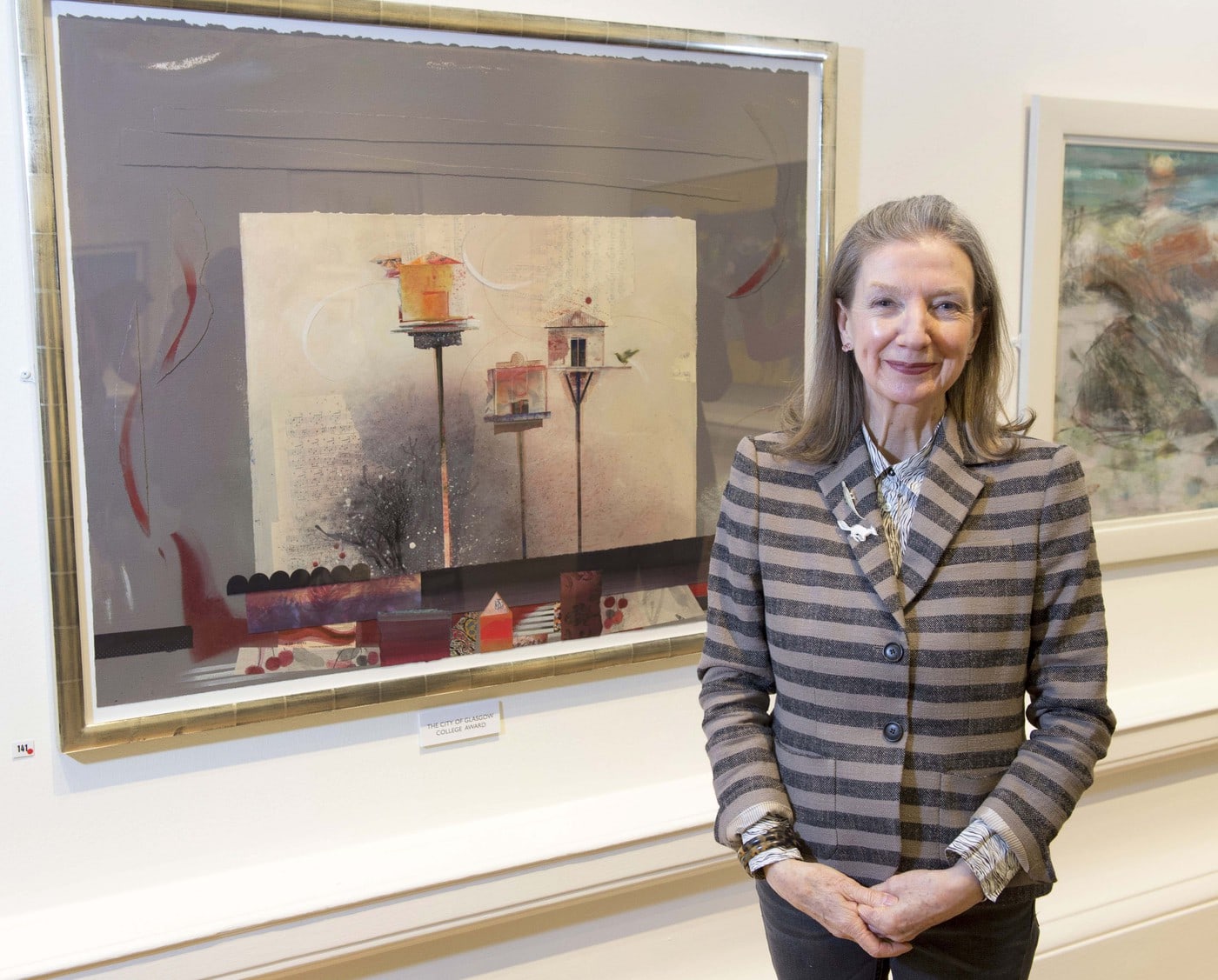 The City of Glasgow College Award was won by Edinburgh artist, Ann Ross RSW for her work 'Aviary' which will be purchased by the City of Glasgow College Art Foundation for the college collection.  Discussing the painting she said "I think people have enjoyed the company of birds throughout history for food and communication, but also for the beauty of their movement, song and colour. My aviary paintings are inspired by memories of various birds and their 'houses' – simple or elaborate shelters for garden birds or bright budgerigars and parrots, racing and fancy pigeons or beautiful pale doves. Some have been grandly designed as part of elegant gardens; others colourfully made with any material to hand. All an endless delight to view."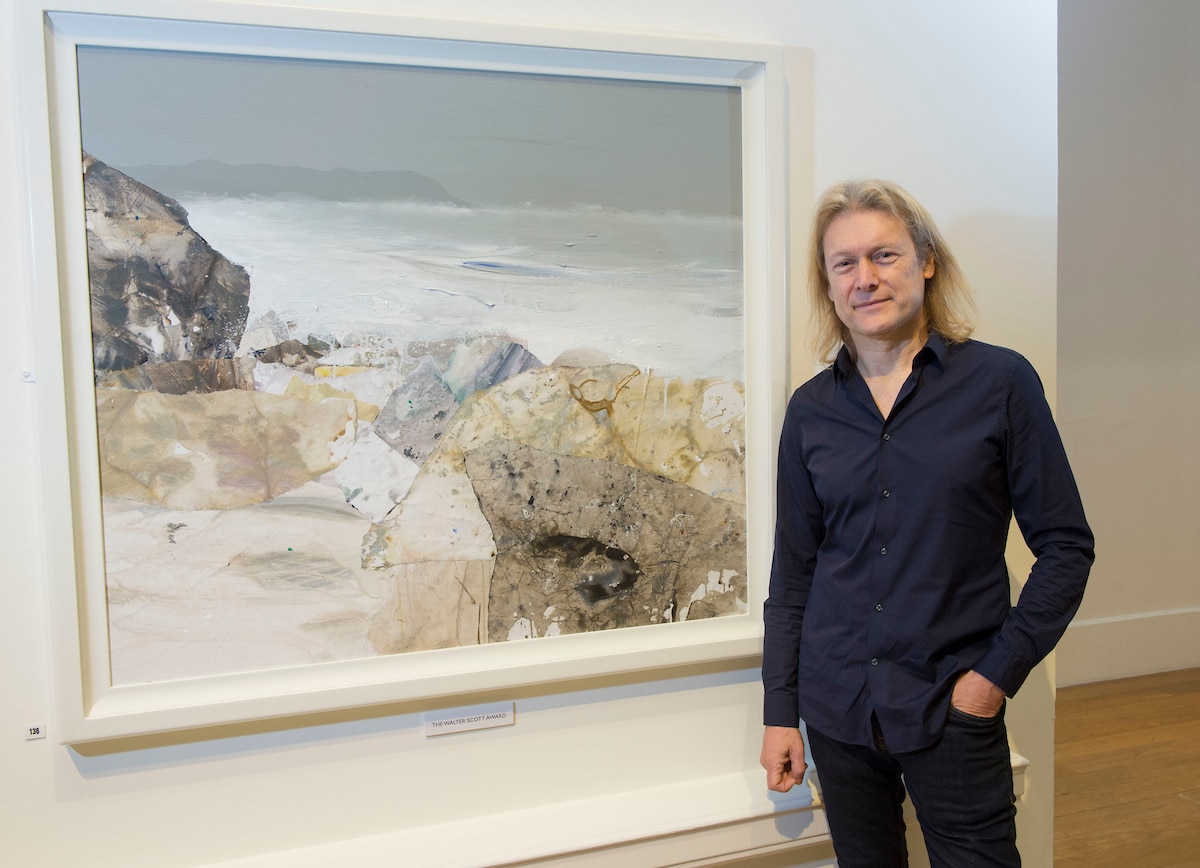 Artist Chris Bushe RSW won the Walter Scott Award for his painting 'White Tide, Pale Rocks, Saligo Bay'.  He said "The painting is of one of my favourite places on Islay, Saligo Bay. I have painted many different locations on the island since first visiting it ten years ago but I keep being drawn back to Saligo Bay. It is a westward facing bay where the Atlantic continually seems to pound in, crashing over almost otherworldly rocks no matter what the season."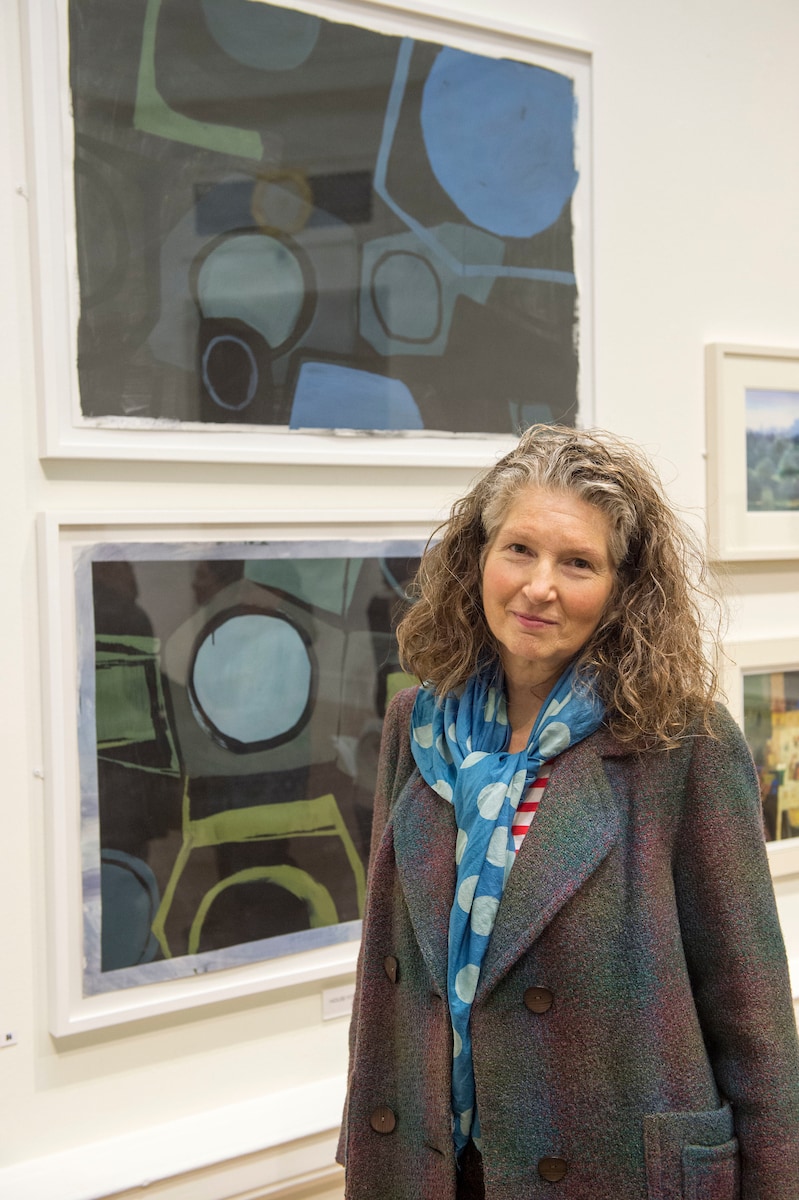 Sandi Anderson won the £1000 House for an Art Lover Award for her diptych 'Hofsos Basalt 1&2' which was made in her Icelandic studio during a residency in 2016.  She explains "The landscape is breath-taking around every bend.  Familiar – yet more dramatic than home. Something that always stopped me in my tracks was basalt. It is a mystery and a wonder. I spent hours seeking it out and staring at it. Wandering over it and photographing it. Drawing it and sighing at it. Out of all the basalt outcrops I stumbled across, the most unusual by far was a small black cluster on the shoreline at Hofsos, where the hexagonal columns had circular cores and this diptych is a response to its unusual characteristics."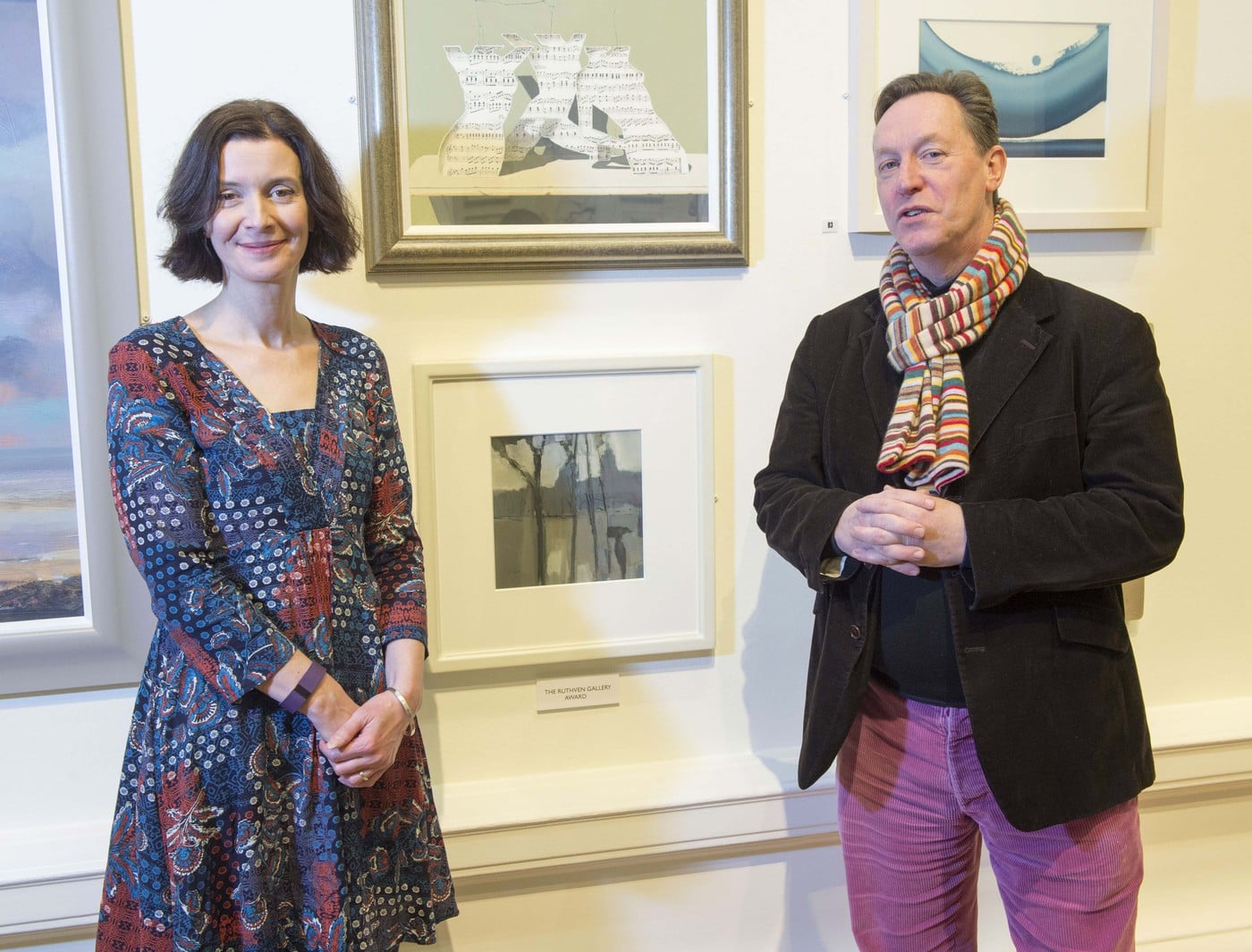 Michael G Clark RSW won the new Ruthven Gallery Award presented by the gallery in Auchterarder. Talking about the painting, 'Paris in the Rain', he said "Paris has inspired me since I first visited as an art student in the 1980s. I prefer Paris in the Autumn or Winter when the trees are losing their leaves and you can see the buildings. The painting shows a fleeting moment – just a hint of a woman heading to a cafe…  Paris for me is life to be lived and watercolour is the perfect medium to hint at wet streets and moody skies."
The 136th Annual Exhibition features work by over 120 leading and emerging artists from across Scotland and is open daily from 10am-5pm until 28 January 2017 at the Royal Scottish Academy Gallery, The Mound, Edinburgh and admission is free.