Summer Exhibition Opens in Forfar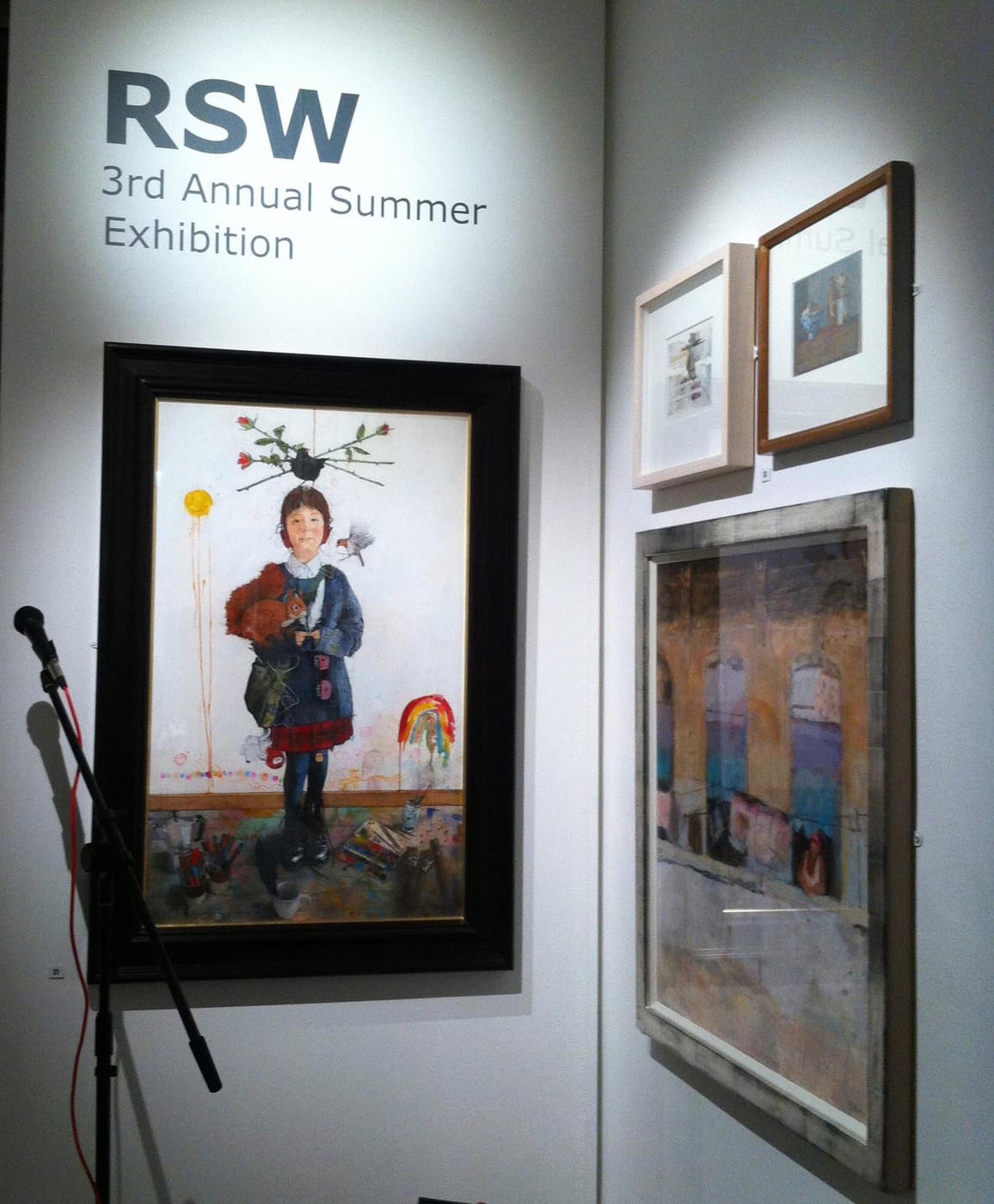 Our 3rd Annual Summer Exhibition featuring over 180 paintings by leading and emerging watercolour artists is now on at the The Meffan in Forfar.
This is the perfect opportunity to experience watercolour painting in the 21st century and everyone who visits the exhibition is certain to find something to capture their imagination.  The names of the paintings alone, such as Moroccan Dream, Winter Odyssey, The Girl who had a Plan and Fortune Teller's Dream, give a flavour of the variety of subjects and inspirations.
All of the paintings are for sale so it is also an opportunity to buy an original work of art and any profit from sales goes into supporting future RSW exhibitions.
At the exhibition opening the new Walter Scott Award was presented to Perth artist Claire Harkess BA RSW for her painting Sacred Cow, India.  Claire graduated from Glasgow School of Art in 1993 and this is her fourth RSW award.  Her work is inspired by wildlife and she has taken study trips to Mexico, Trinidad & Tobago, St Kilda, Australia, St Kitts, China, The Galápagos Islands, Kenya and India.  In 2011 she won the Wildlife in Action category of Wildlife Artist of the Year run by the David Shepherd Foundation and her work is held in the collection of the Royal Scottish Geographical Society.
Describing the experience of painting in watercolour she writes "Painting in watercolour offers a unique directness. The essential qualities of light and energy ever present in the natural world are the very essence of the medium itself.  In search of a simplicity and beauty through the painting of a line, shape, colour, the process is immediate and instinctive.  Remaining true to both medium and subject, with every brush mark visible, I strive to allow the paint the freedom to speak for itself – thus creating a dialogue between myself, the viewer and the ever evolving work."
The RSW Summer Exhibition is at The Meffan, 20 West High Street, Forfar DD8 1BB until Saturday 7 June 2014.  Open Tuesday to Saturday 10am to 5pm.  Admission free. www.rsw.org.uk